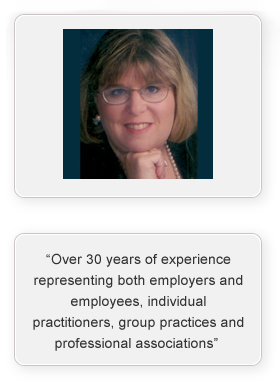 About Us
Kopf HealthLaw, LLC is a general health law practice that focuses on the laws and legal issues of health care professionals, their practices, associations and patients. It was founded in 1994 by an attorney who is also a health care professional. Randi Kopf, principal attorney, was a Board certified Family/Oncology Nurse Practitioner for over 30 years. Kopf HealthLaw is committed to personal attention, prompt, efficient and cost effective legal services. Randi Kopf is a sincere and dedicated advocate for physicians, nurses, allied health care professionals and their patients. She maintains relationships with other attorneys if her clients need legal counsel outside her scope of practice. It has been her experience that this approach maximizes legal experience while minimizing legal costs to the client.
Key Benefits of working with Kopf HealthLaw, LLC
Depth of Expertise
Comprehensive approach
Efficient and cost consideration
Client centered focus
Personal senior attorney attention
Kopf HealthLaw, LLC will be glad to work with your current counsel to provide the health law component of your legal advice.
Practice Mission
The goal of Kopf HealthLaw, LLC is to provide high quality personal legal advice quickly and at reasonable cost by drawing on the extensive experience of an attorney who is also a health care professional. The practice provides legal advice to solo medical practitioners, medical groups and networks, nurses, allied health care professionals, medical associations and certain individual patients. Kopf HealthLaw strives to resolve client matters in an efficient and equitable manner without resorting to litigation. Ms. Kopf applies her health care background when advising clients who have concerns regarding their practice matters, such as incorporation, employment matters and compliance issues, as well as many other legal issues related to the practice of health care today. She has broad experience with Managed Care Organization matters such as contract review and negotiation and provider networks. Her practice has extended into the e-health and e-law arenas. Ms. Kopf monitors Federal and State health care legislation such as Stark, HIPAA, Compliance and Privacy Guidelines, Fraud an Abuse and Medicare regulations and is able to evaluate these laws and their impact on the practice of medicine, nursing and allied health fields. She has a reasonable and practical approach when assisting her clients in compliance with the many laws and regulations that apply to health care practice today. Kopf HealthLaw is also dedicated to providing legal assistance to individuals who are involved in a conflict with their Managed Care Plan, health insurance carrier or Medicare concerning a denial or provision of appropriate and necessary medical services.
Professional Experience
Additional Information: