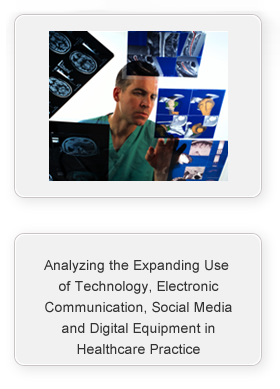 E-Healthcare
Randi Kopf has unique and extensive experience in the practice of e-health care. This practice area involves the expanding and evolving use of technology, electronic communication, use of social media and digital equipment in the healthcare practice. As Kopf HealthLaw, LLC has been a virtual law practice since 1994, one of the first 14 attorneys in the state of Maryland to have a website, Ms. Kopf has personal experience with computers, software and digital equipment legally and medically. Her particular health care background, general health law legal practice and virtual law practice has allowed Ms. Kopf a distinct perspective on these matters. As the practice of health care, like law, joined the electronics communication age, the legal issues connected with the practice of medicine over the Internet and with technology in the health care setting her work with e-health matters has greatly expanded. She is a frequent speaker and consultant regarding the development and legal review of national and individual professional websites concerning the compliance with professional guidelines, state and federal law compliance.
She has been a nationally sought after speaker to educate doctors, nurses, health care practice managers, lawyers and allied healthcare professionals on the topics of the potential legal liabilities and strategies to minimize risk in clinical practice and to their professional licenses in the practice of e-health, e-law, cyber nursing, privacy rights and violations. Her experience in this area has also been acknowledged with invitations to speak to the Maryland State Bar Association, Montgomery County Bar Association, the American Health Lawyers Association, The American Association of Nurse Attorneys (TAANA), Medical Societies, Practice Administrator Organizations and other medical, legal and professional organizations on the topics of the virtual law practice, e-health, e-law, health information technology (HIT) and what lawyers need to know about e-health for their clients. Ms. Kopf was given the 2004 Cynthia Northrop Distinguished Service Award by TAANA as recognition of her work in the development of the Association's first fully functional website and member electronic communications.
Please visit the presentation topics page for more information regarding current and prior speaking presentations. View Presentations.
This practice area includes:
Contract review and negotiations for:

Computer healthcare software purchase or lease, especially electronic medical records, eRx and practice management software
Health care technology equipment purchase or lease (ex. computers, Dexascans, EKG units)

Payment (credit cards and check scanning devices) and billing agreements Protecting your professional reputation online, social media participation and assessment
E-health matters (emailing patients, consultations, payment for e-services, office polices, professional websites, blogs, internet and Wi-Fi issues)
Compliance with State and Federal law and evolving e-health legislation
Drafting of office polices for use of computers, PDAs, website, blog and email use for HIPAA privacy and HIPAA security compliance
Advising clients how to minimize their liability when sending PHI email, development of the practice website and utilizing other electronic communications and devices
Advising healthcare professionals on the set up of an electronic healthcare practice including suggestions of equipment and software purchase or lease, electronic medical records, PDA use, secured intranet, remote access, back up and retrieval, medical records software and use, patient portals, billing and payment technology, awareness of and minimization of legal liabilities and risk prevention
Website review for compliance with professional guidelines, law and liability